Brunch Menu
Lunch / Dinner
Happy Hour

#BrunchTails
Cocktails & More
Build-Your-Own Bloody Mary
tableside masterpieces, choose your toppings
Frosty Fog Cutter
cold brew coffee, kahlua, woodford reserve bourbon, whipped topping, frosted flakes
Beer Mugs
34 oz. mug of domestic beer
50 oz Pitchers
(for 2 or more) strawberry mimosa, peach bellini, or blackberry ginger margarita
Mimosa, Sangria, or Bloody Mary Packages
(2 hour maximum)

First Things First
Starters
The Basic B*tch
toasted wheat bread, sliced avocado, pico de gallo, cilantro, fried egg
Smoked Salmon Toast
ciabatta toast, lemon caper cream cheese, capers, pickled red onions, fresh dill

Brunch So Hard
Flatbreads & Skillets
Western Flatbread
baked flatbread, county jalapeno gravy, sausage, ham, red onion, tomatoes, shredded cheddar, red bell peppers, green onions, fried eggs
Holla Atcha Flatbread
baked flatbread, hollandaise sauce, bacon, red onion, feta, gruyere cheese, baby arugula, tomato, fried eggs
West Coast
home-style potatoes, sausage, red onion, tomato, baby arugula,
feta, avocado, green onions, hollandaise sauce, fried egg

Morning Dough Boys
French Toast & Waffels
Count of Monte Cristo
brioche bread, sliced ham, gruyere, strawberry preserve, powdered sugar, maple syrup, cup of fresh fruit
Banana Caramel Waffle
toasted waffle, bacon jam, maple syrup, sliced bananas, caramel sauce, whipped cream, mint powdered sugar
Chicken & Bliss
toasted waffle, fried chicken strips, maple syrup, sliced strawberries, honey lemon butter, mint
Mixed Berry Waffle
toasted waffle, bacon jam, maple syrup, mixed berries, whipped cream, mint, powdered sugar

Snacks to Share
Starters
Fiesta Spinach Artichoke Dip
cream cheese, mozzarella, cheddar, & parmesan served with tortilla chips & grilled flatbread
Wings
Crispy breaded wings, blue cheese dressing, choice of sauce: buffalo | bee sting |bbq
Firecracker Chicken Strips
served with roasted jalapeño-ranch dressing
Boneless Wings
Crispy breaded hand-cut chicken breast, served with ranch or blue cheese dressing, choice of sauce: buffalo | bee sting | bbq

So Fresh, So Green
Salads
Caesar Salad
romaine, classic Caesar dressing, garlic croutons, parmigiana-Reggiano Add: grilled chicken or salmon

Two Handers
Burgers, Tacos, & More
Cheddar Chili Burger
house-made beef chili, cheddar, crema, red onion, pickled jalapeños, cilantro, tortilla strips
Southwest Chicken Tacos
shredded chicken tinga, refried beans, pico de gallo, Cotija cheese, avocado, cilantro, jalapeno, avocado crema
Avocado-Ranch Burger
pepper jack cheese, guacamole, ranch dressing
Chicken Tinga Enchiladas
house-made mole sauce, sour cream, melted cheese

Little Thangs
Sides & Extras
Facilities Fee
A facilities fee of up to 3% will be added to the total of each check. This fee is not a tip or service charge.

Snacks
Bites to Share
BBQ Pulled Pork Quesadilla
Red pepper, cheddar, jack cheese, grilled red onion, pickles, house-made barbeque sauce, served with cole slaw
Chips and Salsa Trio
House fried tortilla chips, house salsa, salsa verde, salsa molcajete
Fiesta Spinach Artichoke Dip
Tortilla chips, grilled flatbread
Firecracker Chicken Strips
served with roasted jalapeno-ranch dressing
Southwest Nachos
Tostada chips, longhorn cheddar, monterey jack cheese, jalapeno pickled onion, refried beans, guacamole, sour cream add pulled pork or shredded chicken
Wings
crispy wings, served with ranch or blue cheese Buffalo, BBQ, Bee Sting 8 | 16
Street Style Elote
charred corn, garlic, chili de arbol, cotija cheese, crema, cilantro available off the cob
Guacamole and Queso Fundido
House-made guacamole, Mexican cheese, chorizo, pico de gallo, cilantro, fresh flour tortillas, tostada chips
Boneless wings
Hand-cut chicken breast, seasoned crispy, served with ranch or blue cheese
Choice of buffalo, bee sting, or BBQ wing sauce

Salads
Light and Fresh
Caesar Salad
romaine, classic Caesar dressing, garlic croutons, shaved parmesan add chicken or salmon
Southwest Cobb Salad
Fajita chicken, smoked bacon, pico de gallo, cheddar, jack cheese, avocado, tortilla strips, charred spiced corn, cotija cheese, choice of southwest vinaigrette or roasted jalapeño-ranch

Handhelds
Sandwiches & Burgers
Tijuana Hot Chicken Sandwich
fried buttermilk-marinated chicken breast, house-made caliente spice mix, coleslaw, pickles, tijuana hot sauce
Avocado-Ranch Burger
pepper jack cheese, guacamole, ranch dressing
Jalapeno-Avocado Chicken Sandwich
zesty jalapeno-avocado marinated grilled chicken breast, fresh tomato, arugula, mayonnaise, bacon
Cheddar-Chili Burger
house-made beef chili, cheddar, crema, red onion, pickled jalapenos, cilantro, tortilla strips
Beyond Beef Torta
beyond beef burger, chorizo seasonings, refried black beans, oaxaca cheese, chipotle mayo, pickled jalapeno, avocado
Classic Cheeseburger
choice of american, cheddar, pepper jack, or swiss cheese

Tacos
Tacos & Chill
BBQ Pork Carnitas Taco
Pickled red onion, cotija cheese, house-made barbeque sauce, jalapeño
Southwest Chicken Taco
Shredded Chicken Tinga, refried beans, pico de gallo, Cotija cheese, avocado, cilantro, jalapeño, avocado crema
Crispy Fish Taco
beer-battered cod, coleslaw, sliced avocado, cilantro, avocado crema, cotija cheese
Beyond Beef Tacos
beyond beef plant based burger, charred peppers, charred onions, avocado, cotija cheese, served with tomato and cotija cheese salad

Entrees
Crowd Pleasers
Chicken Tinga Enchiladas
house-made mole sauce, sour cream, melted cheese
Green Chili Carnitas Enchiladas
green chili sauce, pickled onion, avocado
Fajitas
southwest grilled chicken, fajita steak, fajita shrimp or combo (Pick 2), served with caramelized onions, peppers, fresh tortillas
Tex-Mex Flatbread
ancho spiced chicken, refried beans, red onion, jalapenos, red chili tomato sauce, chipotle honey glaze, mozzarella, cheddar jack cheese
BBQ Flatbread
pulled chicken, barbecue pizza sauce, red onion, mozzarella, cheddar, and cilantro
Caliente Chicken Flatbread
grilled red onion, green onion, bacon, mozzarella, Parmesan, blue cheese crumbles, Buffalo sauce, pizza sauce, blue cheese drizzle
Facilities Fee
A facilities fee of up to 3% will be added to the total of each check. This fee is not a tip or service charge.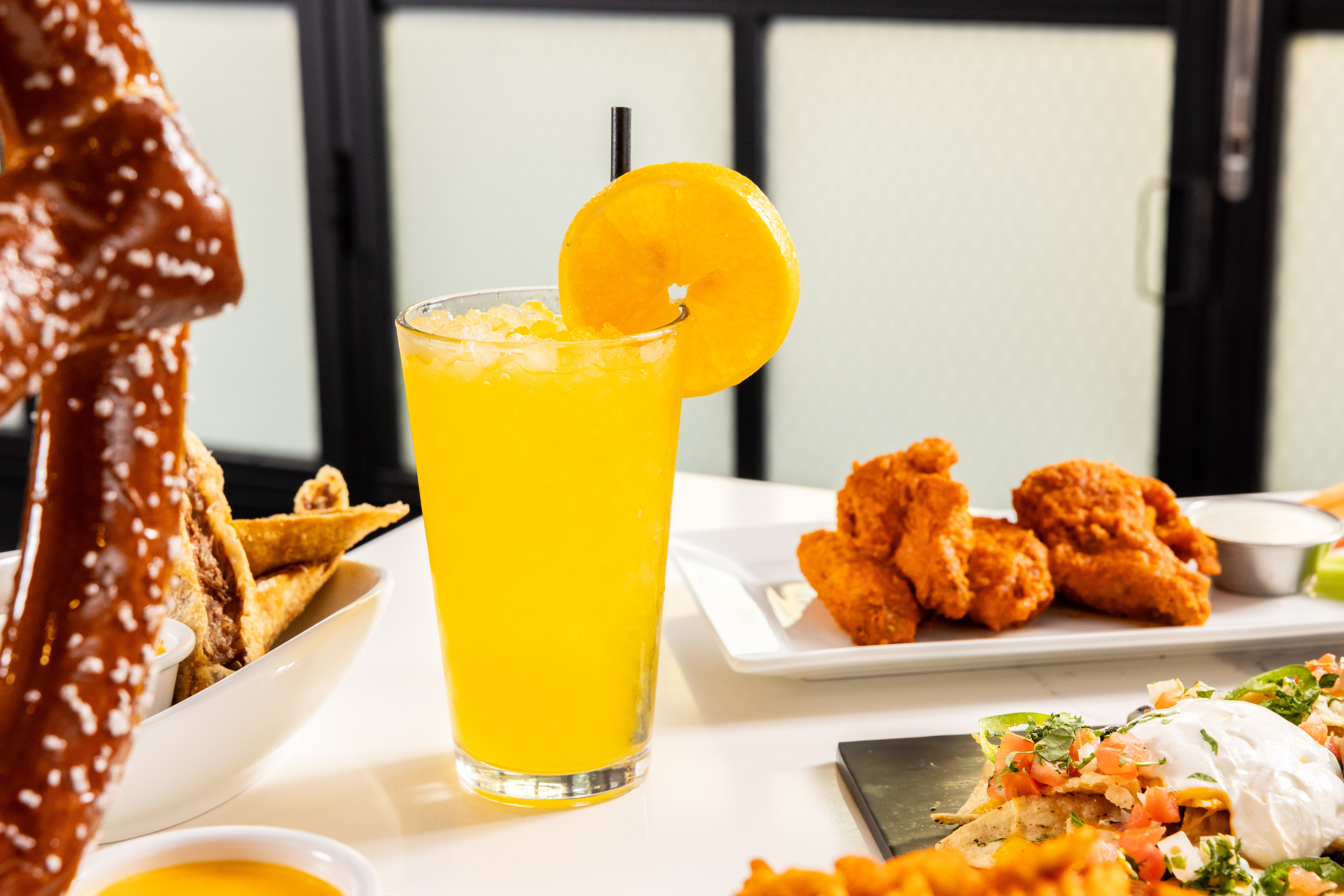 Drinks
Tuesday - Friday | 4-6PM
$4 Domestic Drafts
Bud, Bud Light
$6 House Wines
Chateau Ste. Michelle rose & white, 14 Hands red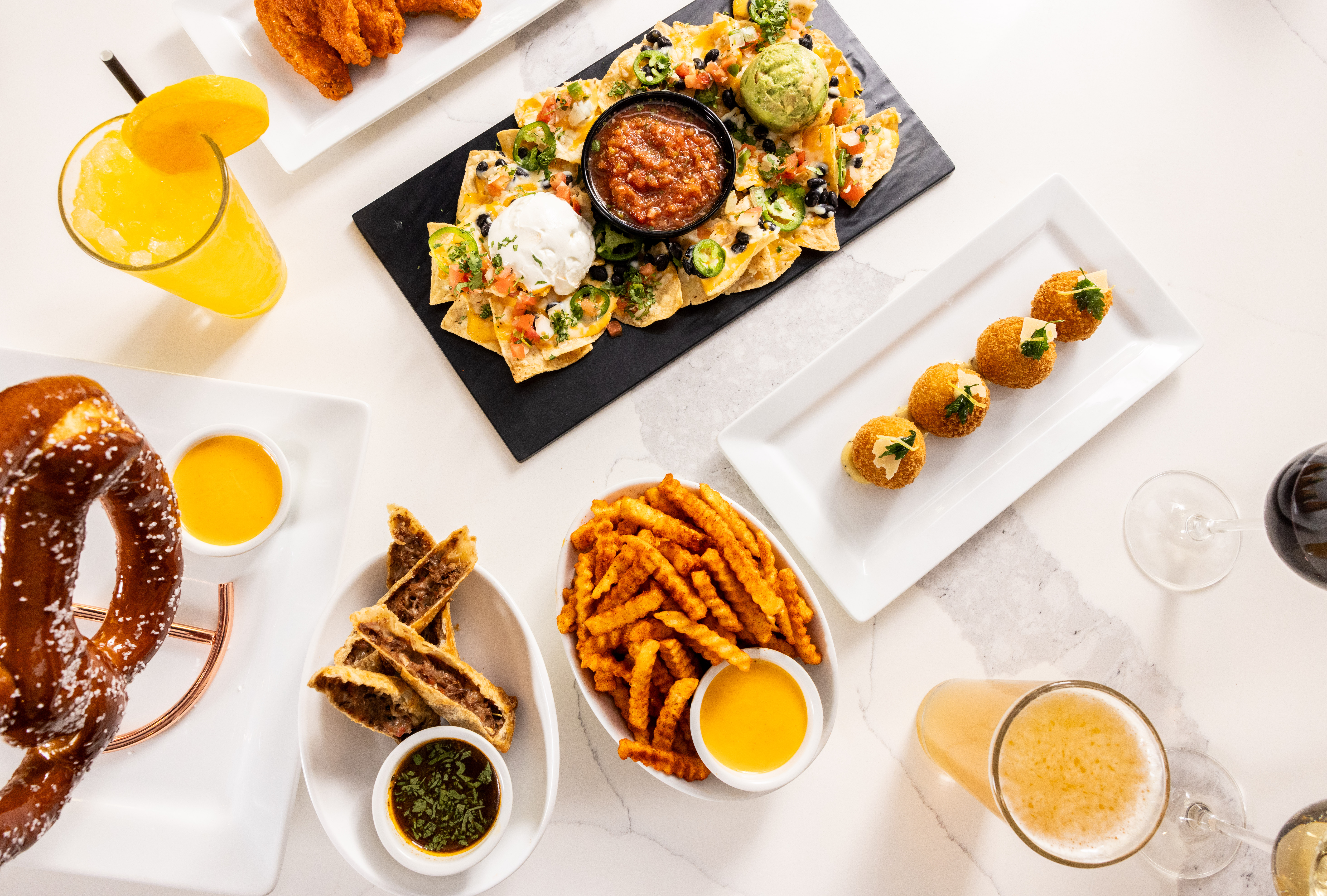 Food
Tuesday - Friday | 4-6PM
$4 Traditional Wings
choice of buffalo, bbq, zesty garlic, sweet chili bbq, bee sting, served with ranch or blue cheese (4 wings)
$5 Signature Fries
crinkle cut fries, sweet bay seasoning, cheese sauce
$6 Loaded Nachos
cheese blend, pico de gallo fresh jalapeños, sour cream, guacamole